Matcha waffles
This recipe was devised by Maïa, a blogger @petitsbeguins, exclusively for Palais des Thés.
Serves 4
Dessert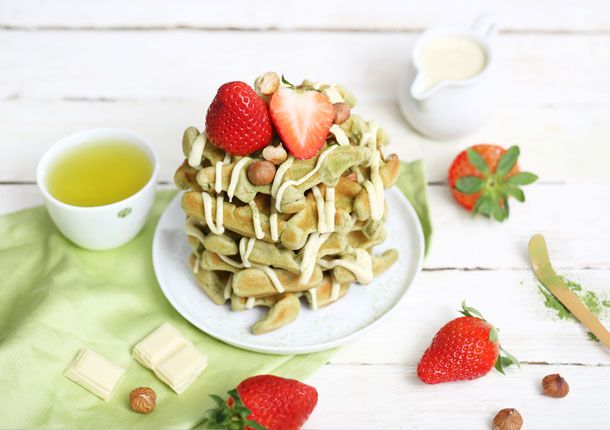 Ingredients
Batter
200g (7 oz.) plain flour
2 teaspoons baking powder
Pinch of salt
3 eggs
1 small pot of plain yoghurt
60g (2 oz.) butter, melted
3 teaspoons
1 tablespoon water
Topping
100g (3.5 oz.) white chocolate
100g (3.5 oz.) strawberries
Handful of hazelnuts
Preparation
Blend the flour, baking powder and salt.

Add the eggs and yoghurt, then the melted butter.

Beat the powdered Matcha into the water using a whisk. Add this diluted Matcha to the batter mixture.

Leave to rest for 30 minutes.

Cook each waffle for 3 minutes.

While they are cooking, melt the chocolate in a bain-marie.

Drizzle the melted chocolate over each waffle and top with a few strawberries and crushed hazelnuts.