King Prawns flavored with Paris for Him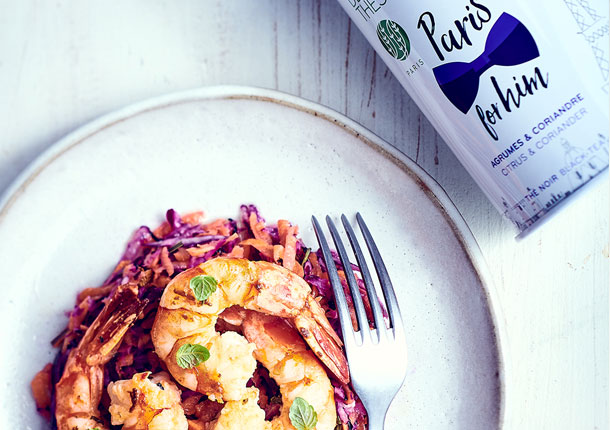 Ingredients
13 g of
30 cl of water
12 king prawns
4 tablespoons of olive oil
2 carrots
½ red cabbage
1 orange
40 g of Fleur de sel French sea salt
Preparation
1.

King Prawns
Infuse 8 g of for 4 minutes in 195°F water.

Peel the prawns and remove the entrails. Heat a tablespoon of olive oil in a frying pan and fry the prawns 1 minute on each side.

Deglaze with 15 cl of infusion and leave to reduce.

Remove prawns and let sit.
2.

Salade
Peel the carrots and wash cabbage.

Grate carrots and cabbage using the side with large holes.

Leave for now.
3.

Fleur de sel
Using a mixer, rapidly mix the fleur de sel (salt) with 5 g of the tea.

Let the mix thicken in order to preserve the crunchy texture of the salt.
4.

The vinaigrette
Juice an orange.

Whip with 15 cl of tea and 3 tablespoons of olive oil.

Add 2 pinches of fleur de sel mix infused with , mix.

Pour the salad and mix.
5.

Serving
Serve the well-seasoned salad along with 3 king prawns per person.

Season the prawns with a few pinches of salt infused with
Serving suggestion
Be careful not to overcook the prawns, one minute on each side will suffice.