Brioche rolls with dried fruit and Blue of London tea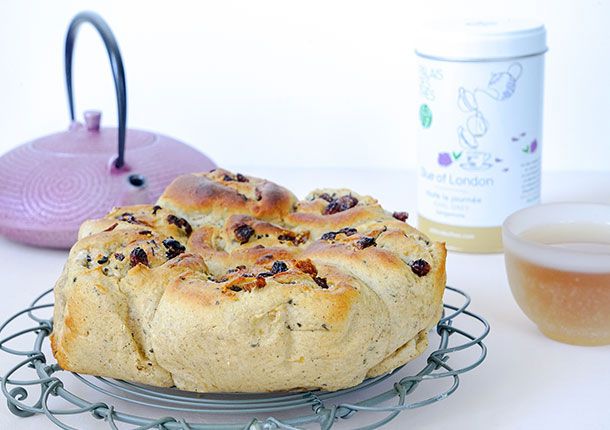 Ingredients
1 cup flour (7 oz. spelt flour, 2 tablespoons of buckwheat flour, 30 grams of chestnut flour)
15 cl of milk
80 grams of melted butter
40 grams of cane sugar
15 grams of fresh Baker's yeast (or 1 packet of 6 grams of dry yeast)
2.5 tablespoons of crushed
tea
5 grams of table salt
40 grams of dried raisins
4 dried apricots
4 finely cut figs
1 organic lemon
Preparation
Crumble yeast in a bowl.

Add 3 tablespoons of warm milk and 1 tablespoon of sugar.

Mix then leave for 5 minutes allowing the yeast to bubble.

Add the flour mix, 50 g of melted butter, the rest of the milk, 20 grams of sugar, salt, 1.5 tablespoons of crushed tea.

Knead for 5 to 7 minutes. The pastry will detach itself from the sides.

Cover with a plastic film.

Leave for 40 minutes.

Preheat the oven at 356 °F.

On a well-floured work surface, using a rolling pin spread out the pastry on a surface of 20 x 30 cm.

Spread the remainder of the melted butter with a brush.

Sprinkle the remaining sugar and tea.

Divide the dried fruit and lemon zest.

Roll the pastry, compressing the rolling pin tightly.

Cut into pieces of 5 cm and place them in a round plate.

Leave for 20 minutes and then cook for 20 minutes in oven.