Description
A delicious pairing of vanilla and almond against a delicate Rooibos backdrop, for a warm and sophisticated blend.
Sprinkled with pieces of vanilla pods, this naturally caffeine-free tea may be enjoyed at any time of the day or evening.
Did you know? Literally, Rooibos means "red tea" in South African. Contrary to general belief and its nickname, Rooibos is not a tea, is it a bush. Its plant has the appearance of a small bush and in the spring it is covered with small yellow flowers. Rooibos gives a completely naturally caffeine-free infusion, which is why it is so great for the evening!
Enjoyed as an infusion by the people of South Africa for the last 300 years, Rooibos has been cultivated and marketed since the 1930's. Today it is the national drink of South Africa.
It is grown in the Cedarburg mountain of South Africa (125 miles north of Cape Town) at 1500-2000 ft. elevation. Its botanical name is Aspalanthus linearis. There are two varieties of Rooibos: "green" rooibos which is simply dried in the sun, and the more popular "red tea" that goes through an oxidation process which gives the plant its characteristic slightly sweet taste and red color.
There are different grades of rooibos, but not much difference between them. However, the one called "long cut" offers the most interesting experience in terms of fine flavors and powerful aromas. It is the most harmonious and it is the only grade Palais des Thés buys.
Suggestion of preparation
To prepare latte rooibos:

Steep 0.3 oz (8g) of tea in 1 cup of hot milk and 1 cup of 200°F (95°C) water for 5 minutes.
Learn more about latte preparation.
Recipe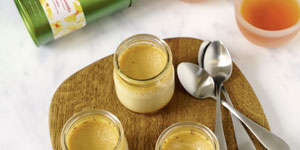 Creme Caramel With Rooibos Des Vahinés
Serves 8
Preparation time : 20 minutes
View the recipe
Tea ingredients
Rooibos (South Africa) (93%), vanilla flavor (3%), marigold petals, vanilla, cream and almond flavors (1%)