Spelt Salad With Fleur de Geisha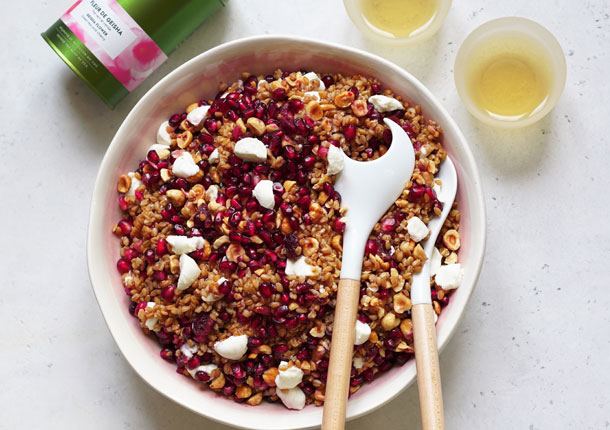 Ingredients
1 oz. of
4 cups of uncooked spelt
3.5 oz. of dried cranberries
2 oz. of chopped hazelnuts
10.5 oz. of fresh baby mozzarella cheese balls
1 cup pomegranate seeds
2 tbsp. of hazelnut oil (or olive oil)
2 to 3 tbsp. of (white) balsamic vinegar
Preparation
Soak spelt grains in cold water for at least 2 hours, preferably overnight, then strain and rinse them

Tea liquor: infuse the in 1 liter of water at room temperature for 30 minutes. Reserve 10 cl. aside

Place the spelt in a large pan and cover with the tea liquor. Cook the spelt 40 - 45 minutes covered over medium heat. Salt at the end of cooking, and drain under cold water.

Heat the remaining 10 cl. of tea liquor you put aside in a bowl and add the dried cranberries. Let it swell for 20 minutes, drain, and keep the juice

In a separate bowl, combine 2 tbsp. of this juice with balsamic vinegar, hazelnut oil, and some salt and pepper. Whisk until emulsified

In a large serving bowl, mix in the remaining ingredients (pomegranate seeds, chopped hazelnuts, mozzarella balls cut in 4, cranberries cut in 2), add the cooked spelt, and set aside in the fridge

When ready to serve, pour the dressing over the salad and toss to coat.

Serve at room temperature and enjoy!