Chocolate truffles & Chai Impérial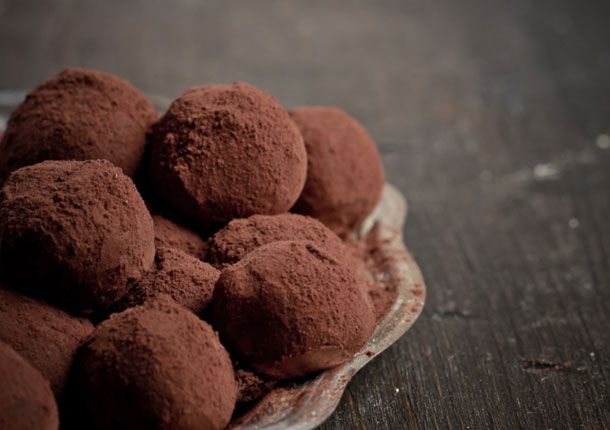 Ingredients
5 teabags or 2 tbsp (10g)
in a large filter
6 fl. oz. (18cl) of whipping cream
2 oz. (60g) of buckwheat honey
8 oz. (220g) of dark chocolate
0.9 oz. (25g) of butter
2 2/3 oz. (75g) of cocoa powder
Preparation
Bring the cream to the boil in a small saucepan.

Remove from the heat, add the tea and leave to infuse for 4 minutes.

Place the honey and chocolate in a bowl, then slowly add the tea-flavoured cream, stirring with a wooden spatula.

Heat in a bain marie until the mixture is smooth and glossy.

Off the heat, add the butter in small pieces and mix gently.

Line the base of a rectangular baking dish with baking parchment.

Pour in the chocolate cream and chill in the fridge for 2 hours.

Slide a knife around the edges of the dish to help remove the mixture from the dish.

Cut the truffle mixture into cubes.

Shape the cubes into balls, keeping your hands dusted with icing sugar.

Return the truffles to the fridge for 1 hour.

Place the truffles on a plate of cocoa powder and roll until coated in the powder.

Rouler les truffes dedans afin de les recouvrir de cacao.

Store in a sealed container in the fridge.
Serving suggestion
is the perfect partner for chocolate and imparts a wonderfully rich aroma.