Madeleines with Grand Yunnan Impérial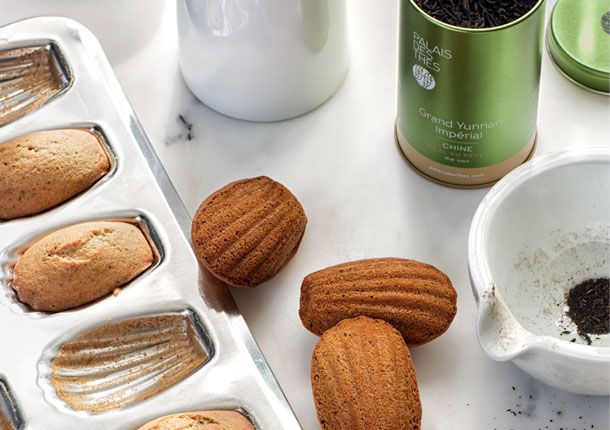 Ingredients
3 tablespoons (12 g) of
tea
8 cl of 2% milk
75g of butter
2 eggs
75g of powdered sugar
125g of flour
½ packet of baking powder
Salt
Preparation
Preheat the oven to 355 °F.

Heat milk in a small pot.

Once the milk is warmed, infuse a tablespoon of tea for 6 minutes.

Filter the tea.

Melt butter in a pot and allow it to cool.

In a salad bowl, whisk eggs with sugar in order to obtain a frothy mix.

Pour in milk.

Add a pinch of salt, flour, baking powder and melted butter.

Using a mortar or rolling pin, crush the remaining tea into a powder.

Add the powdered tea and mix to create a homogenous paste.

Using the previously buttered madeleine pan, fill ¾ of the way with the paste.

Keep in the oven for 15 to 20 min.
Serving suggestion
Add some honey to the madeleines for added sweetness.