Cod parcels with Matcha parmesan topping
This recipe was devised by Maïa, a blogger @petitsbeguins, exclusively for Palais des Thés.
Serves 2
Dish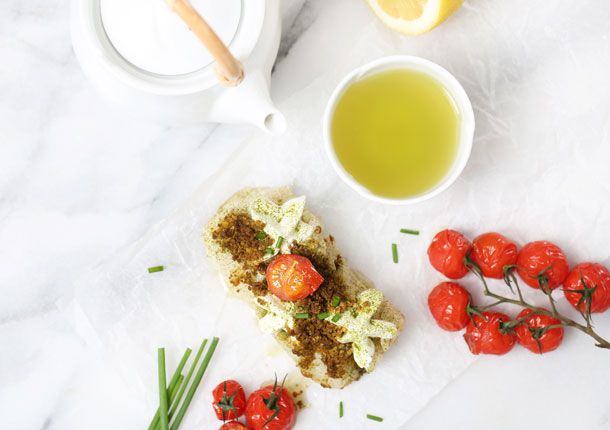 Ingredients
Cod parcels
2 cod steaks
10 cherry tomatoes
Juice of 1 lemon
2 tablespoons plain yoghurt
1 teaspoon
Matcha parmesan topping
3 tablespoons finely grated parmesan
5 pieces sundried tomato
3 tablespoons pine kernels
1 tablespoon
Preparation
Top each piece of cod with the yoghurt, lemon juice and halved cherry tomatoes.

Wrap loosely in baking parchment and bake at 390°F (200°C) for 20 minutes.

Combine the topping ingredients and mix thoroughly.

Just before serving, dust a little over the cooked cod using a sieve.

Then divide the Matcha parmesan topping between the two portions.