Description
A green tea enlivened by flower petals and delicately flavored with pieces of white peach. This tea also evokes kiwi and watermelon.
The green tea and the juicy freshness of the fruit are wonderfully balanced.
Delicious hot or iced.
Suggestion of preparation
Préparer ce thé chaud :
Prendre 6 g de feuilles de thé pour 30 cl d'eau et faire chauffer à 75°. Faire chauffer pendant 3 minutes.
Préparer ce thé glacé :
Prendre 15 g de feuilles de thé par litre d'eau à température ambiante,
Laisser infuser pendant 30 minutes, retirer les feuilles et placer au frais.
Recipe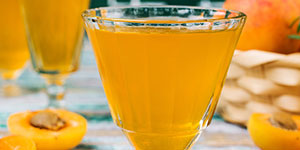 Punch des Alizés
6 verres
Temps de préparation : 10 minutes
Temps d'infusion : 4 heures
Voir le cocktail
Tea ingredients
green tea (China) (90%), peach (peach, rice flour) (5%), orange blossom, peach flavor