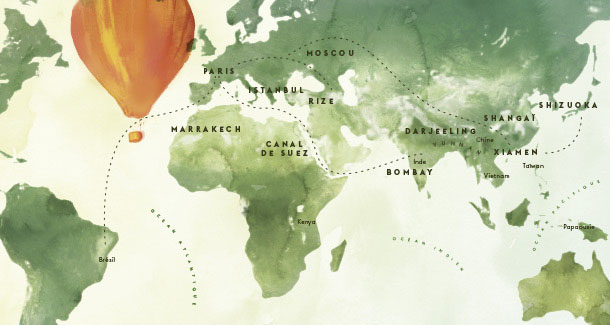 Tea Around the World
Palais des Thés strives to communicate its passion for tea and introduce people to the gastronomic delights of tea. Every year, our experts travel to tea plantations across the world to ensure that we can provide the highest quality tea for you to enjoy, all while respecting the environment and planters we work with. Our sustainably sourced tea from different parts of the globe will awaken your senses and your mind to a delightful tasting experience.
China's incomparable teas
Long Jing

This well-known green tea offers a complex, aromatic bouquet of vegetal notes, minerals and roasted ch...

Grand Yunnan Imperial

This delicious black tea, also known as "surgeon's tea" because it awakens without overstimulating, ha...
A taste of Japan
Sencha Ariake

The mildest of the great Sencha teas, ideal for morning tea.

Genmaicha Yama

A traditional blend of Bancha green tea and roasted rice.
A trek through India
Assam Maijian T.G.F.O.P.

This superb Assam black tea, rich with golden tips, is dainty, floral, and full-bodied with a lingerin...
A Sri Lankan experience
Saint-James

A light and copper-colored tea with a fine chocolaty taste, harvested in a prestigious garden in Sri L...
The prestige of South Korean teas
Jejudo Imperial Organic

Jejudo Imperial has the marine and hazelnut notes that Korean spring teas are known for, as well as a ...