Description
This surprising blend of Bancha tea, toasted rice and puffed corn is very thirst quenching and pairs well with a savory meal. When steeped, it produces a delicious fragrance and a flavor of roasted grains, making it very popular among people who are not used to green tea.
Tasting notes
Liqueur
Couleur : vert/jaune
Texture en bouche : souple en bouche
Saveurs : légère acidité
Arômes : grillé, céréale en attaque, soutenus par des notes fraîches végétales
Profil aromatique et longueur en bouche : présent dès l'attaque. Longueur moyenne
Suggestion of preparation
Préparer ce thé chaud :
Prendre 6 g de feuilles de thé pour 30 cl d'eau et faire chauffer à 75°C. Faire infuser 2 à 3 minutes.
Préparer ce thé glacé :
Prendre 20 g de feuilles de thé par litre d'eau à température ambiante, laisser infuser pendant 30 minutes, retirer les feuilles et placer au frais.
Recipe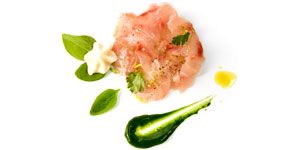 Carpaccio de daurade sur lit d'épinards, émulsion Genmaicha Yama
Pour 4 personnes
Temps de préparation : 35 minutes
Voir la recette
Tea ingredients
thé vert (Japon) (52%), riz brun grillé (48%)