Description
Oolong tea with Palais des Thés' famous cocktail of 7 citrus fruits: lemon, lime, orange, Seville orange, grapefruit, bergamot and mandarin.
A beautiful oolong tea combining citrus notes and the woody character of oolong tea.
Did you know? Different from the tea that grows in Georgia, Russian blends have been enjoyed in Russia since the 17th century.Although they were originally blends of black Chinese teas, they became more diverse in the late 19th century when the Russian court was introduced to Indian teas, most notably Darjeeling. Since then, the term "Russian blends" has been adopted to refer to any blend of Darjeeling and Chinese black teas, with or without natural citrus extracts added.
Recipe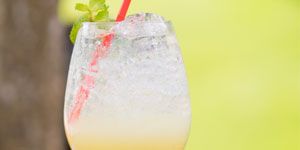 Limoncello Granita With Oolong 7 Citrus
4 glasses
Preparation time : 15 minutes
View the recipe
Tea ingredients
oolong (China) (88%), lemon (5%) and orange peels (5%), flavor.