Description
Thé des Lords is a wonderful Earl Grey with a pronounced bergamot flavor, enhanced with safflower petals. Of all the Earl Grey teas, this one has the strongest bergamot flavor.
About Earl Grey: Earl Grey is one of the best-loved English teas. It was first created when Charles Grey, 2nd Earl of Falloden and Foreign Secretary of Britain, received an old recipe from a Mandarin Chinese that called for flavoring tea with bergamot.
Discover the 7 others recipes of this collection !
Suggestion of preparation
To prepare hot tea:
Steep 0.2oz (6g) of tea in 10fl oz (30cl) of filtered water for 4 minutes at 200F° (95°C).
Recipe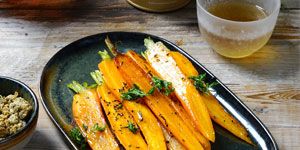 Carrots With Thé Des Lords And Hazelnut Crumble Topping
Serves 1
Preparation time : 20 minutes
View the recipe
Tea ingredients
black tea (Sri Lanka, China) (97%), bergamot flavour (2%), safflower petals