Icy Peach Granita
4 glasses
Cocktail without alcohol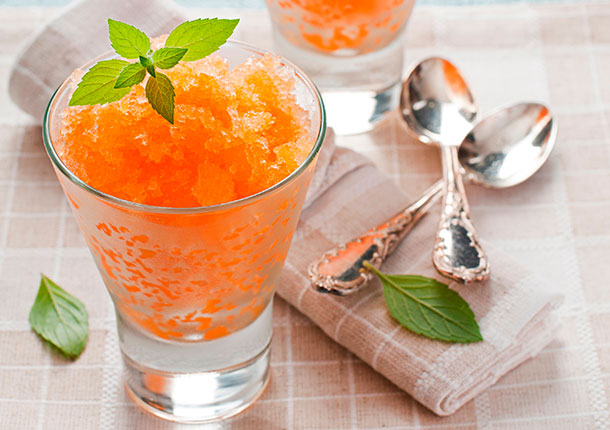 Ingredients
10 g of
50 cl of filtered water
12 cl of yellow peach juice or 2 yellow peaches mixed without the skin
1 yellow peach cut in 5 mm pieces
Grenadine syrup
A few fresh mint leaves
You will need:
Recipe
Infuse 10 g of in 50 cl of room temperature water for 45 minutes.

After 45 minutes remove the tea leaves and add the peach juice or mixed peaches.

Place in a covered container and put the mix in the freezer for approximately 6 hours, while scraping every hour with a fork in order to break the frozen pieces on the side into smaller pieces and bringing them to the center. If the mix is freezing too quickly, remove the mixture from the freezer for a few minutes and then scrape with the fork. Repeat this process every hour until you have formed little ice crystals.

Pour the mix into small glasses, add some mint leaves, the pieces of peach cut up into 5mm and coat everything with a few drops of Grenadine syrup. It's ready!
Variation
This recipe can also easily be used to make popsicles. Pour the mix into popsicle molds and add one or two pieces of peach and mint leaves and a dash of grenadine syrup and let it sit in the freezer for 6 hours.