Peachy Frozen Yoghourt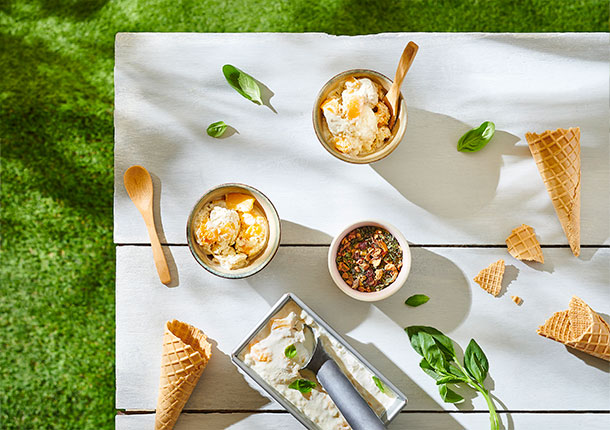 Ingredients
16 g of
250 g of Green Yogurt
20 cl of heavy cream
2 peaches
2 stalks of basil
You will need:
Recipe
1.

The infusion
Warm up the heavy cream in a pan for 5 minutes.

Infuse the cream in 16 g of tea and basil.

Place the mix in the fridge for 30 minutes.

Filter the mix.
2.

The Frozen Yogurt
Mix the Green Yogurt with the cream infusion of Icy Peach and basil.

Cut the peaches in small pieces and add to the mix.

Pour the creamy blend into an airtight container then place everything in the freezer for two hour. Stir the blend every 30 minutes.

Serve the frozen yogurt in a bowl or cone.
Tasting Suggestion
For a variation on this recipe, you can replace basil with 1 teaspoon of orange blossom water.
Preparation Suggestion
Sprinkle the yogurt with a few fresh basil leaves.