Oolong Old Fashioned
1 Old fashioned glass
Alcoholic cocktail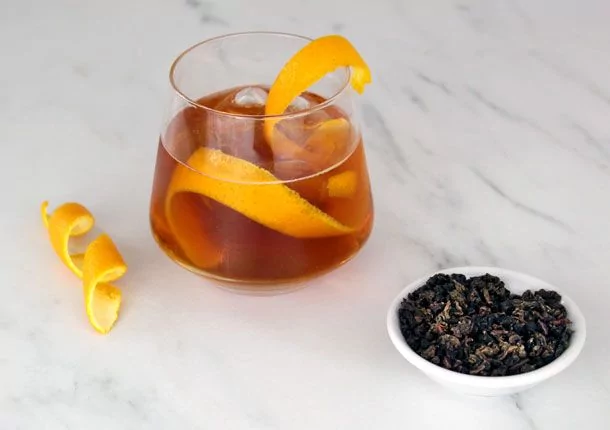 Ingredients
10 g TIE GUAN YIN IMPERIAL Oolong tea
8.45 fl.oz filtered water
2 fl.oz bourbon
1 sugar cube
3-4 drops of angostura
1 orange zest
Ice cubes
Preparation
Infuse 10 g (0.4 oz) of Tie Guan Yin Impérial in 8.45 fl.oz water at room temperature for 4 hours. Remove the infused leaves and place in a cool place.

Place the sugar in the glass. Sprinkle a few drops of angostura and crush with a pestle (the sugar cube can be replaced with liquid cane sugar).

Add a few ice cubes.

Pour in the bourbon and add 3.4 fl.oz of infused tea (adjust to suit your taste).

Mix with a spoon.

Squeeze the zest above the glass.
Presentation tip
Use the orange zest to flavor the rim of the glass then drop it into the glass for decoration.
Excessive alcohol consumption is dangerous to health: consume in moderation