Andalusia cocktail
Co-founder of elegant, nautically themed Parisian bar CopperBay, Aurélie Panhelleux invented a recipe exclusively for Palais des Thés based on the new Andalusian garden herbal tea.
4 glasses
Cocktail with alcohol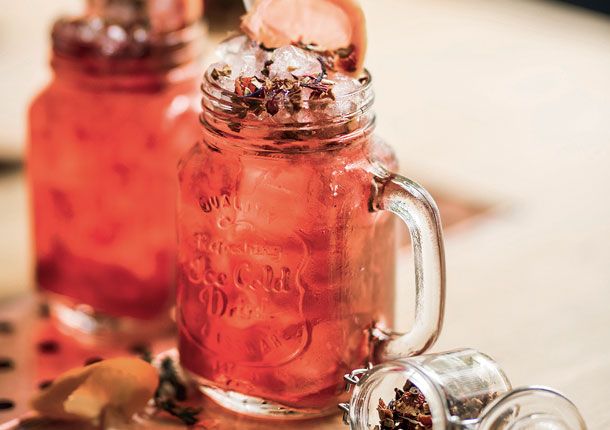 Ingredients
2.5 tsp (15 g) Palais des Thés herbal tea
4 cl (1 1/3 oz) Orgeat syrup
3 cl (1 oz) Aperol
1 cl (1/3 oz) Suze Saveurs d'Autrefois Liqueur
2 cl (2/3 oz) Lillet Blanc
0.5 cl (1/6 oz) Crème de pêche
2 cl (2/3 oz) Ginger Beer
Preparation
Steep the herbal tea
This recipe is designed to make more herbal tea than the cocktail requires. Steeped herbal tea can be kept in the refrigirator for 72 hours.
To prepare the herbal tea, use 2.5 teaspoons of in 7 oz (20 cl) of water.

Steep at 90°C for 5 minutes, then strain thoroughly.

Let cool.
Mix the cocktail
Fill each glass with 3 cl Aperol, 1 cl Suze Saveurs d'Autrefois Liqueur, 2 cl Lillet Blanc and then 0.5 cl Crème de Pêche.

Add 4 cl Orgeat syrup, 3 cl steeped herbal tea, and finally 2 cl ginger beer.

Stir gently to preserve the fizz in the ginger beer.

Add a straw and garnish by arranging an orange slice, and a sprinkle of for a beverage that looks as good as it tastes!
Excessive alcohol consumption is dangerous to health: consume in moderation