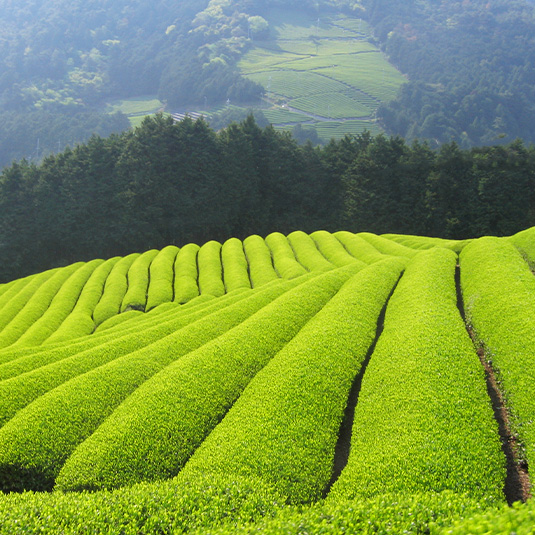 A long tradition
While the first signs of tea originate in the 9th century, tea is formally introduced by Japanese master Eisai in the 12th century. After studying Chan Buddhism in China (which would become known as Zen Buddhism), he brought back a new way of consuming tea which corresponds to the current way of drinking
Matcha
, a powdered green tea whisked with hot water. Later on, the tea master Sen-no Rikyu (1522-1591) codified the relationship between tea and Buddhism through the ceremony known as Cha No Yu.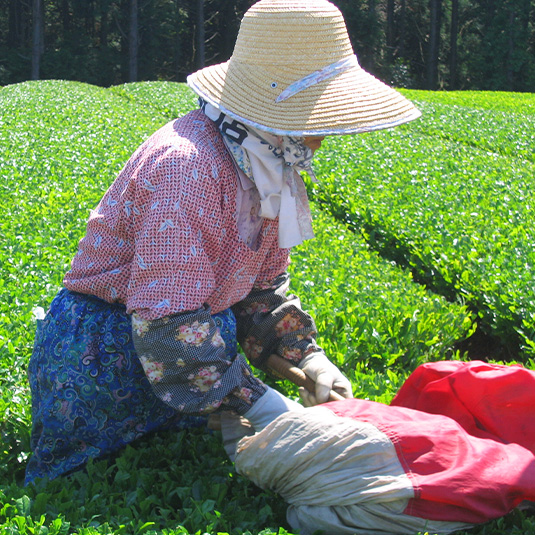 Emblematique teas
Tea is distinguished into two types. Firstly, there are shaded teas (
Matcha
, Gyokuro, Kabuse Cha Midori) that come from tea plants that were covered by a tarp two to three weeks before harvesting. Meanwhile unshaded teas (
Sencha
,
Tamaryokucha
,
Genmaicha Yama
,
Kukicha
...) have fully benefited from sun exposure. The vast majority of tea cultivated in Japan is green. Among these teas, Sencha makes up 50% of the country's production. Additionally, the first Spring Harvest (ichibancha) is the most eagerly awaited harvest by tea amateurs.
In restaurants,
Bancha
, tea, which is the last to be harvested in the year and Hojicha tea, grilled tea with a low caffeine content, are both frequently offered during meals.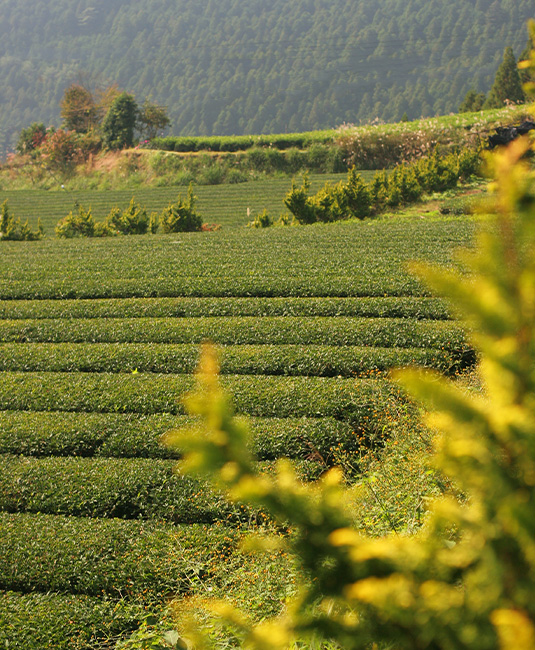 Three large producing regions
The Japanese terroir is different from its Chinese "neighbor." Since the second half of the 20th century, the country has favored the Yabukita cultivar (75% of tea bushes planted), which is both resistant to climate and insects, but also high yielding.

Nearly 70% of Japanese production takes place in the southern part of the archipelago. With its 21,000 hectares of gardens, the Shizuoka prefecture produces 45% of Japanese teas. Its cool and harsh climate is largely responsible for the quality of Sencha and other teas produced. In the Kyushu region, Kagoshima provides all kinds of green tea blends (22% of the country). Its subtropical climate, mountainous areas and numerous cultivars allow for varied production.

Finally, the Kyoto prefecture remains the historical cradle of Japanese tea cultivation (3% of production) with its Matcha, Gyokuro and Sencha plantations.