Description
A very fine crop, with many buds for this very particular type of tea. 
Its powerful flavor is reminiscent of damp soil and bark. Long woody, liquorice notes.
Very supple and harmonious. Clean notes with a very supple texture.
Pu-Erh means "trouser bottom" in Chinese. According to a Chinese folk tale, the tea pickers keep the best leaves for themselves, hiding them in their pockets to take home. Pu Er tea is highly regarded in Chinese medicine for its curative properties. It is said to lower cholesterol levels, dissolve fat, aid in digestion, improve blood circulation and reduce the effects of alcohol. This tea improves with age, owing to the specific type of fermentation that affects the tannins.
Tea and food pairings:
Discover the delicious taste of Pu Erh Imperial with game. For cheese lovers, this dark tea pairs softly with firm cheese such as aged Comte or semi-hard cow's milk cheese.
Features
Couleur :
Thé Sombre / Pu Erh
Tasting notes
Feuille sèche
Dry leaves
Appearance: small leaves rolled lengthwise.
Infusion
Color: black.
Aromas: animal, undergrowth, moss, damp wood and damp earth.
Liqueur
Color: brown with black glints.
Texture: very supple, velvety and smooth.
Flavors: umami
Aromas: undergrowth, mushroom, mineral, damp wood and damp earth.
Suggestion of preparation
Préparer ce thé chaud :
Prendre 6 g de feuilles de thé pour 30 cl d'eau et faire chauffer à 95°C. Faire infuser 4 minutes.
Préparer ce thé glacé :
Prendre 16 g de feuilles de thé par litre d'eau à température ambiante, laisser infuser pendant 45 minutes, retirer les feuilles et placer au frais.
Préparer ce thé latte :
Infuser 8 g dans un mélange de 25 cl d'eau à 95°C et de 25cl de lait chaud (animal ou végétal) pendant 5 min. Faire mousser à l'aide du fouet électrique.
En savoir plus sur le mode de préparation latte.
Recipe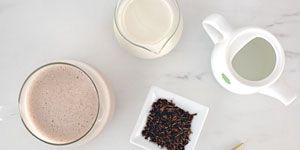 Tea ingredients
thé sombre (Chine)