Grands Crus

Rare and ephemeral, teas identified as Grands Crus by Palais des Thés are the result of the alchemy between a tea plant variety, its terroir and the talent of an artisan grower. Meticulously plucked, processed and sourced in the most respected tea gardens, our Grands Crus unveil unique flavors that reflect the refinement of their origins.
Savor the exceptional
Between tradition and innovation, each Grand Cru is at once rare, limited and artisanal.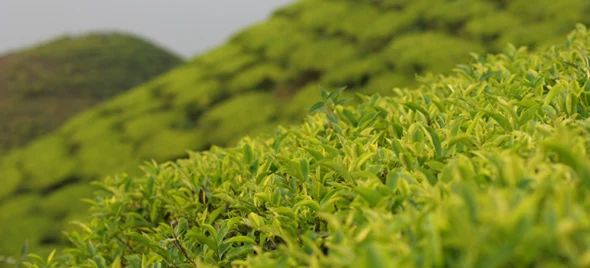 Rare
Over the years, François-Xavier Delmas has developed an in-depth knowledge of tea gardens, giving him access to some of the lesser known plantations in the business. Thanks to the relationships he has cultivated with expert growers, the founder of Palais des Thés has access to the best teas that are rare, sometimes limited to just a few kilos, and exceptional.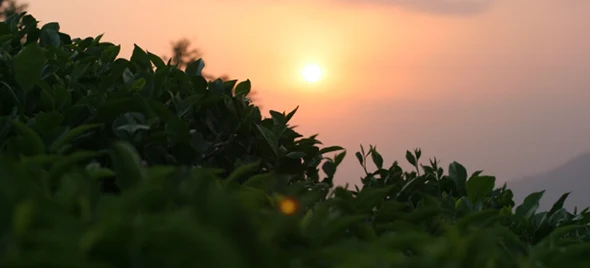 Limited
Grands Crus teas are only available during their optimal tasting period, which only lasts a few months. Tea leaves are only harvested once they are fully mature, so that they reveal their unique taste characteristics. Direct supplying from plantations means that our teas can be delivered quickly, thus guaranteeing their freshness.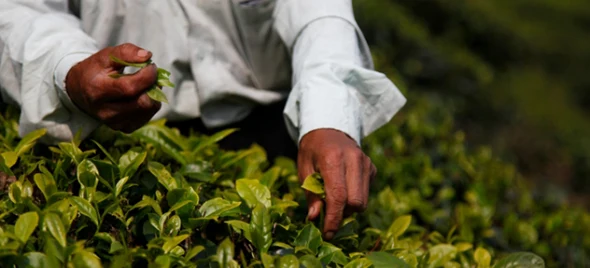 Artisanal
Each Grand Cru owes its unique character to the hard work and passion that goes into creating it. After the meticulous methods for harvesting are complete, processing the leaves requires further expertise: shriveling, rolling, oxidation, fermentation, roasting, sorting and wrapping.
Production areas
From Asia to South America, including Africa, Europe (Georgia) and Oceania (Papua New Guinea), exceptional teas can be found on every continent.
East Asia

As the birthplace of tea and the largest tea producer worldwide,

China

has a variety of impressive teas to offer. In

Japan

, tea is anchored in Japanese tradition since the 9th century.

South Korea

and

Taiwan

also boast renowned and popular teas.

South America

For several years,

Colombia

has produced refined black, green and white teas. Harvested in the Cauca Valley, these teas benefit from exceptional climate conditions. Peru also offers some rarities, even though production is still quite minimal.

Europe

Georgia

is a small country that has produced tea since the 19th century. In the Guria region, located in the western part of the country, one can find subtle and gourmet black and green teas.

Oceania

Located southwest of the Pacific Ocean, Papua New Guinea enjoys a large cultural and biological diversity. On this land of coffee, some rare gardens produce teas in the western Highlands.
Varying seasonal harvests
First flushes are the first harvests of the year, and are without a doubt the most eagerly awaited by tea lovers. In winter, young shoots from tea plants have had time to stock up on minerals and amino acids, and this concentration means that they can produce a highly rich, flavoured and complex tea.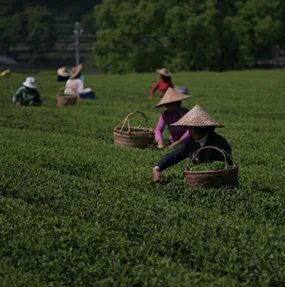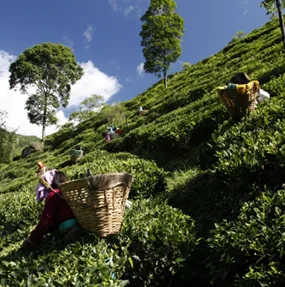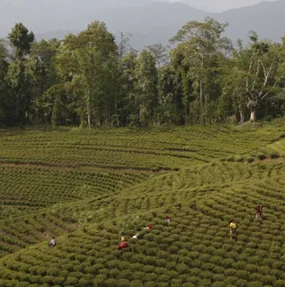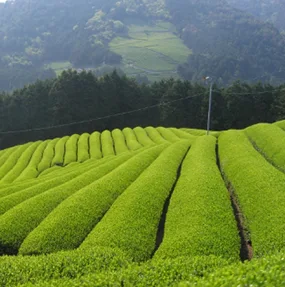 Every year we offer our customers first flushes from four tea growing countries. In China, the harvest takes place in April across several regions. These are referred to as "new season green teas". In India, the most iconic first flush is from Darjeeling. Depending on the year, the harvest begins between the end of February and the third week of March. In Nepal, teas made from first flushes come from tea gardens in the Himalayas. Finally, in Japan, Ichibancha (or "first harvest") is the most highly-prized harvest for green teas.

Two other harvests take place in Darjeeling and Nepal : the second flush and third flush. These Grands Crus are renowned for their wide diversity and aromatic richness.