Description
This tea is dressed to impress in the form of a festive recipe and is ready to ring in the New Year with you and your loved ones. Flowery and fruity, New Year's Eve Tea N°31 is a joyful ode to the festive season, a pleasure that can be enjoyed at any time of day or night.
The delicate flavor of Chinese green tea is combined with the energy and freshness of apple and grape, with notes of rose elderberries to add a gourmet touch.
Suggestion of preparation
To prepare hot tea:
Infuse 0.2 oz (6 g) tea in 10 oz (30 cl) filtered water heated to 175°F (80°C) for 4' minutes.
Recipe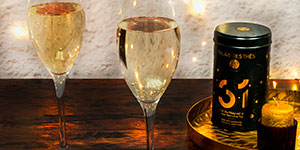 New Year's Eve Tea N°31 cocktail
1 glass
Preparation time : 5 minutes
View the recipe