Description
Chaï Impérial Green Masala combines mild green tea with exotic Indian spices: cardamom, pink pepper, cinnamon and ginger. A new take on Chai for a delicious flavour experience.
Scattered with precious spices, this flavoursome and warming tea can be enjoyed on its own or with milk, in the Indian tradition.
Perfect for sharing !
Suggestion of preparation
To prepare hot tea :
Steep 8g in a mixture of 50cl of water at 75°C during 4 minutes.
To prepare latte tea:
Steep 13g in a mixture of 25cl of water at 90°C and 25cl of hot milk for 5min.
Recipe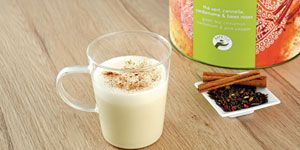 Chaï Impérial Green Masala Latte
1 cup
Preparation time : 5 minutes
View the recipe
Tea ingredients
Green tea (China) (65%), cinnamon (15%), ginger, cloves (3%), cardamom (3%), blackpepper, natural flavour, pink pepper (1%).