Description
Produced in the province of Kyushu, Sencha Ariake is the mildest of the great Sencha teas.
Very invigorating and flowery, it is very pleasing in the morning.
Tea and food pairings:
Sencha Ariake pairs extremely well with grilled fish such as salmon, bass, sea bream, or red mullet and with seafood such as shrimps, scallops or clams.
For dessert lovers, Sencha Ariake is delicious with berries mousse or sorbet.
Tasting notes
Liqueur
Couleur : beau vert.
Texture en bouche : douce et veloutée.
Saveurs : légère acidité.
Arômes : attaque iodée, marine (poisson cru et algue) et végétale (légume cuit au départ puis note d'herbe coupée en fond).
Suggestion of preparation
Préparer ce thé chaud :
Prendre 6 g de feuilles de thé pour 30 cl d'eau et faire chauffer à 75°C. Faire infuser 1 à 2 minutes.
Préparer ce thé glacé :
Prendre 20 g de feuilles de thé par litre d'eau à température ambiante, laisser infuser pendant 30 minutes, retirer les feuilles et placer au frais.
Recipe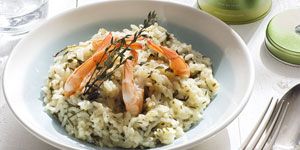 Risotto au Sencha Ariake et aux crevettes
Pour 4 personnes
Temps de préparation : 40 minutes
Temps de cuisson : 35 minutes
Voir la recette
Tea ingredients
thé vert (Japon)