Description
Oolong, slightly fermented: 10%.
This is one of the most celebrated teas from Taiwan. Its name means "wrapped in paper" in Chinese, because the tea is wrapped in white cotton paper before fermentation to preserve the delicacy of its leaves.
A beautiful tea with large, twisted leaves that produces a straw-yellow liquor with a flowery, almost peppery taste, it evokes narcissus and jasmine flowers with a perfect blend of green and sweet notes. Should be enjoyed according to the rules of Gong Fu Cha. Low in caffeine.
Recipe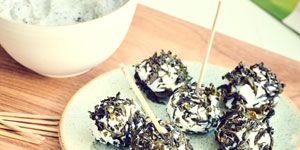 Goat's cheese balls and cream dip with Bao Zhong Impérial
Serves 4
Preparation time : 15 minutes
View the recipe